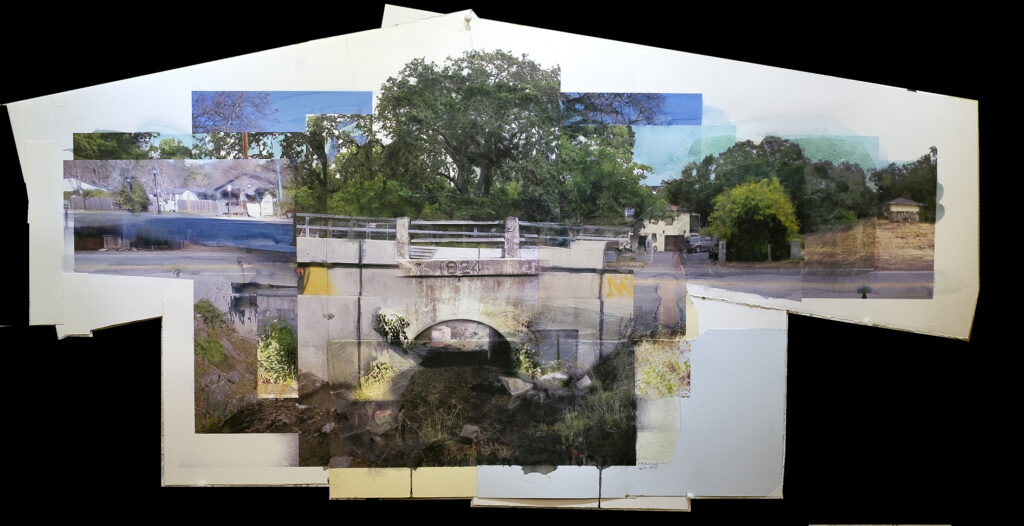 Welcome to my world of art.
I make artwork that reflects my community and my environment. In this site you will see collages from my Main Stem Project, which documents the changes along a two-mile stretch of highway in the heart of Sonoma Valley. You will also see work featuring images of a wider view of the Valley, San Francisco, and Oregon.
My work is based on photographs of my immediate environment that I compose, using Photoshop, into hybrid views from many angles. Then I print out onto watercolor paper, and other papers, and collage in the real world. Next I paint over them and reprint and re-collage so the surface becomes very rich. I always maintain the original composition, but the layer on layer effect I achieve becomes really interesting to look at. You can get kind of lost in the surface, and then your eye pulls back to the overall image. That is the oscillation I'm going for.
I construct my own version of reality in my work. My work is visual music that invites the viewer to wonder and look again, trying to unravel the inherent mysteries of the newly created reality embodied in each work. I hope that you, the viewer, can join me for a few moments in the alternate spaces I create, and share the joy I find there.
Please contact me to learn more and to inquire about pricing.